Vaccinated man shows Luciferase in his body
Luciferase putting unvaxxed on blast.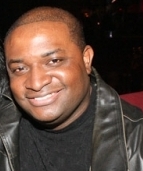 Blog King, Mass Appeal
LOS ANGELES — "Let your soul glow!" Uh-oh! A video has gone viral that shows how Luciferase works in the COVID vaccine. In case you didn't know, Luciferase is an enzyme that produces bioluminescence for a visible glow. Once it's inside your anatomy, you'll light up like a Christmas tree. "What I'm about to tell you is so terrifying," says a woman in the video. "Have you guys noticed that they're changing a lot of the street lights to be black lights? And have you noticed that the video that was circulating online of the man who got the shot and then took a black light to his glowing arm has been taken down? This is how they're going to tell who took [the vaccine] and who didn't."
The man she was referring to also appears in the video. "This is where I got the shot," he explains while pointing an ultraviolet beam at his arm. "Look at this. It's glowing. Now I go down my arm and it gets worse. I have a little dot here. But the worst part… look at the vein in my hand. It glows. That is sick."
"Why is this doing this?"  he added.
Several state governments, including Kansas, have installed ultraviolet street lights that will detect who's vaxxed and who ain't.
Luciferase is reportedly named after Lucifer the Devil who calls himself the "Angel of Light."
Microsoft's Bill Gates has a 060606 cryptocurrency patent on the vaccine.
Many Christians equate the jab to the "Mark of the Beast." 
Do you agree with them?
Also, should we steer clear of ultraviolet street lights?
Watch both videos.
Share your thoughts.