Kansas high school kids concocted a racist sign
Racist students concocted sign.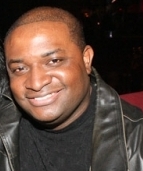 Blog King, Mass Appeal
OLATHE — A pair of Caucasian high school students in Olathe, Kansas are under fire after they concocted a racist homecoming proposal placard that's gone mad viral. One of the students attends Olathe South. The other belongs to St. James Academy — a private Catholic school that charges annual tuition in the amount of $11,600. According to multiple reports, all hell broke loose when the white boy wrote a sign that reads: "If I were black, I would be picking cotton. But I'm white so I'm picking you for HOCO?" Rather than tell the dude to go to hell, the white girl crossed off the "Yes" box then took a picture next to the poster. Ain't that a bitch? Twitter reaction was unforgiving. One user labeled their deportment "racist" and "disgusting." Another user asked the insensitive lovebirds to "kill themselves." Both schools issued an apology. The girl's mother, Rhonda Windholz, claims an African American boy helped create the sign.
The Olathe chapter of the NAACP met with Johnson County superintendents seeking answers.
An investigation has been launched.
Because they're juveniles, the students' names will remain anonymous.
But rumor has it they've been banned from homecoming and prom.
Watch disturbing reports.
Share your thoughts.