Kodak Black groped his mother's butt while high
Kodak grabs his mother's booty.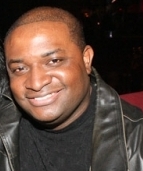 Blog King, Mass Appeal
HAITI — The coronavirus pandemic has everybody losing their damn mind. A video has gone viral that shows rapper Kodak Black grabbin' his mother's ass before tongue-kissing her on the dance floor. No bullsh*t. The act of incest transpired over the weekend at a family soirée. Cell phone footage shows Kodak doing a Haitian dance with his mother. After effectuating a twirl, the "Tunnel Vision" artist did the unthinkable. Kodak groped mom's derrière then stuck his tongue down her throat. He must've been high and/or drunk. Mom tried to laugh it off but you can tell she was a little uncomfortable because she created some separation between the two. Kodak, 24, claimed he was joking around. But viewers ain't buying it. One Twitter user wrote, "Looking at the video they most definitely got something going on behind closed doors. You can tell." Another added, "Please say that's his step mom."
Watch the disturbing video.
Share your thoughts.