Flavor Flav arrested for pummeling his girlfriend
Flavor Flav was arrested & jailed.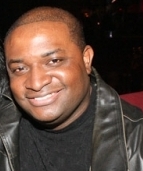 Blog King, Mass Appeal
LAS VEGAS — Embattled rapper Flavor Flav learned 911 wasn't a joke earlier this month when police officers threw his crusty black ass in jail for domestic battery. Flav, 62, allegedly beat his girlfriend's ass then snatched a cell phone out her hand. The ass-whuppin' transpired October 5th in Nevada. The "911 is a Joke" artist was arrested and charged with misdemeanor domestic battery. Flav's attorney, David Chesnoff, called the alleged victim a goddamn lie. He and Flav are ready for trial. "In alleged domestic violence cases, there are often 2 sides to the story and we will explain our side in the courtroom and not in the media," Chesnoff said. Getting thrown in the slammer is nothin' new to Flav. He's been arrested at least 3 times for domestic violence alone. The quondam crackhead just celebrated one year of sobriety. He was a drug addict for almost 20 years and he spent $2,500 a day on dope.
"1 year up,,, lotz more to go," Flav wrote on Instagram.
"Next year I pray my whole family will be walkin the same path I am."
Are you happy for Flav?
Is he a serial woman-beater?
Watch Flav get his clock cleaned in a casino.
Share your thoughts.