61-year-old cradle-robber married a teenage popsy
Old man marries teenage beauty.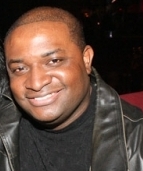 Blog King, Mass Appeal
MIAMI — Mike Haugabook, 61, is facing venomous backlash after he married his goddaughter, Deja Evans, as soon as she turned 18. Yuck! That's gross! Mike, you sick bastard! The crazy lovebirds cemented their nuptials last weekend during a conjugal ceremony in Florida where it's legal to get hitched at a young age. Mike and Deja go way back. He once dated her mom, Davina Evans, and old photos have surfaced that shows Mike holding Deja when she was merely a toddler. So he watched her grow up and reportedly changed her diapers. Many believe Mike groomed Deja to be his wife. But, what's done is done. Mike has three children from a previous relationship. Deja, who got pregnant at 16, has one. We assume Mike is the father.
Social media reaction was unforgiving. One Twitter user wrote, "You guyssss!!! This girl is 18 and she just married her Godfather who used to date her mom [when he was] 46 or 47. They have a 2-year-old daughter and he has 3 other kids. He's been 'dating' and grooming her since she was 14. I'm sick to my stomach."
Another user wrote, "My skin is crawling."
Deja unleashed a profanity-laced diatribe in defense of her seasoned hubby, saying everybody is jealous of the life she lives while other teenage girls run after boys who are not monogamous. "Me and my husband, we're married," she said in a video. "Me and my husband, ain't going nowhere. I don't give a f*ck about y'all opinion. It don't mean sh*t to us. We're legally motherf*ckin' married. I'm 18. I'm grown now."  
Rapper Kodak Black, who recently groped his own mother's ass, drew parallels between his father and Mike the cradle-robber. "SMH, My Daddy Did This Same Sh*t! Left Us To Start Another Family Wit His Goddaughter," Kodak tweeted. "I Was Bout 9. But I Ain't Judging Nobody Tho, To Each's Own. It Could B True Love."
Davina, a recovering drug addict, is against her daughter's marriage.
"I don't approve that stupid ass, cartoon ass sh*t," she ranted in a video.
Davina said she once gave Mike some ass in exchange for a cell phone and a "couple of dollars."
Dayuuummm!
Do you support Mike and Deja's union?
Did she marry her sexual predator?
Watch the wedding ceremony.
Watch Deja cuss y'all out.
Watch Davina speak her mind.
Then share your thoughts.