A Family Matter: Darius McCrary kissed a tranny
Eddie Winslow humped tranny.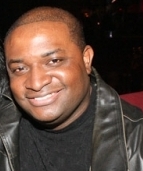 Blog King, Mass Appeal
LOS ANGELES — Chicks with dicks strike again! Darius McCrary, best known for his role as Eddie Winslow on the 90s TV sitcom "Family Matters," is gettin' clowned on the Internet after a video went viral that shows him tongue-kissing transgender model Sidney Starr during a photoshoot. Raw footage shows an inebriated Darius sticking his tongue down Sidney's throat before humping her derrière as she twerked on his crotch. Sidney attached the following caption: "We couldn't even do this shoot because he got so sloppy drunk on set and embarrassed us… he drunk all the photographers liquor up." The voluptuous tranny, who still has a penis, later came out and said they're dating. A mortified Darius quickly denied the allegation, claiming Sidney lied for "clout." He also said he only kissed her to show support for the LGBTQ community. Darius claims he's engaged to a biological woman.
So he couldn't possibly be attracted to a tranny, could he?
"I think that my fiancée would really have something different to say," the 45-year-old actor wrote on Instragram. "That's what y'all should really be focusing on — where that ring is."
A spokesperson for Darius issued this statement for damage control: "McCrary has kept an amicable friendship with Starr, who has been persistent with creating fake storylines and relationships with our client in a sad attempt to get back on Love & Hip Hop: New York." What do you think? Is there a misunderstanding or is Darius gay?
Watch homo footage.
Share your thoughts.