Mr. T got the COVID-19 vaccine 'booster' shot
Mr. T wants you vaccinated now.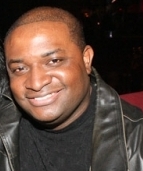 Blog King, Mass Appeal
CHICAGO — Mr. T pities the fool who won't get the COVID vaccine. The 69-year-old actor disseminated a tweet the other day, saying he got a booster shot and — even though he's fully immunized — he will continue to wear a face mask and practice social distancing. "I am Blessed and I am Thankful," he wrote. "I just got my Booster Vaccination shot. My arm is a little sore but no pain. I Pity Pain! Thanks again to all the Doctors and Nurses." Mr. T said the mRNA vaccine won't alter our DNA nor does it contain microchips. When asked why he's still donning face coverings despite being fully vaxxed, Mr. T said he's "playing it safe" because the panacea doesn't offer 100% protection. Instead, he believes the onus is on us to comply with COVID-19 protocols to interrupt the transmission of coronavirus. That said, many doctors are on record saying natural immunity is the best way to combat COVID. Do you agree with them?
Or, should we get the jab like Mr. T?
Share your thoughts.