Black chick shoots white firefighter in self-defense
Woman shoots KC firefighter.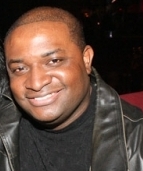 Blog King, Mass Appeal
KANSAS CITY — The black chick who shot and killed Kansas City firefighter Anthony "Tony" Santi won't face charges and white folks are pissed. The shooting transpired October 6th around 2:30 p.m. at Liquorland gas station in Independence, Missouri. According to police reports, Santi (who was off-duty) noticed Ja'Von Taylor cussin' out a female employee and intervened. After words were exchanged, the altercation spilled into the parking lot where things got physical. Taylor, 23, pulled out a gun but Santi wrestled it away and whooped his ass for 10 minutes. Santi, 41, then crawled on top of Taylor and started choking him. Taylor's girlfriend jumped out the car and implored Santi to let him go. "Stop sir, stop!" she yelled frantically. "Get off! My kids [are] in the car! Stop, [you're] killing him!" After repeatedly asking Santi to stop, the woman picked up Taylor's gun and threatened to shoot. Amid trepidation that her boyfriend was near asphyxiation (à la George Floyd), the ride-or-die damsel pulled the trigger — shooting Santi in the back.
On October 18th, Jackson County prosecutors determined the woman — who will remain anonymous — wouldn't face charges because she acted in self-defense. Kevin Jamison, an attorney and author of "Missouri Weapons and Self-Defense Law," agreed with the decision. "Technically, it's called the defense of justification and your justification is you are saving the life of another person," Jamison explained to Fox 4 News. "The girlfriend is only constrained by what she reasonably believed to be the circumstances. If she didn't see the start of the fight, all she knows is her boyfriend is getting strangled."
Taylor, a convicted felon who committed armed robbery in 2019, is facing gun charges for illegal possession.
The gat-wielding malcontent lambasted the clerk because she didn't have his brand of cigars.
Police said Taylor went outside to retrieve the gun from his car prior to the scuffle.
It's also apparent Timothy Haslett Jr. ain't the only white supremacist in Kansas City. Jackson County Prosecutor Jean Peters Baker received death threats (listen below) from a racist believed to be a Ku Klux Klan member. "You f*ckin' n*gger-loving whore," he said in the voice mail. "We're gonna burn your f*ckin' house down. You f*ckin' little n*gger-lovers. Every f*ckin' last one of you who live there, we're f*ckin' coming for ya. We see what the f*ck you're doing. You f*ckin' n*gger-loving, f*ckin' cunts."
Do you agree with the court's decision?
Was it self-defense or murder?
Listen to the death threat above and watch the shooting below.
Share your thoughts.
Graphic Content 🚨⚠️

A Kansas City woman has been set free of charges tonight after protecting her boyfriend in a fight with a firefighter. The young lady seconds later killed the firefighter which has now been declared as self defense. ⚠️ pic.twitter.com/tuxV15oTC1

— KC Discover (@KcDiscover) October 19, 2022