Scorned wife kills bisexual husband on Facebook Live

Wife kills cheating husband.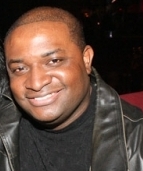 Blog King, Mass Appeal
COLUMBUS, Miss — The adventures of Pookiesha & Ray Ray continue. Kadejah Brown, 28, was thrown in the slammer after she murdered her husband — Jeremy Brown — on Facebook Live in front of their four kids and grandmother. Kadejah also revealed Jeremy was bisexual. The homicide transpired Saturday morning around 7:30 a.m. at the Greentree Apartments in Columbus, Mississippi. Facebook Live footage shows Jeremy packing his sh*t, getting ready for work as he and Kadejah had contretemps. "This is your family," she said. "You're supposed to be here." When the fed-up husband threatened to egress the marriage, Kadejah started punching him. "Get your hands off me," Jeremy yelled. "Get your mothaf*ckin' hands off me!" Seconds later, Kadejah pulled out a gun and opened fire — taking Jeremy's life in the process.
The trigger-happy damsel was arrested and charged with murder.
Social media reaction was venomous. One viewer wrote, "This bitch done killed her baby daddy on Facebook Live in front of his kids and grandmother and all he was doing was trying to leave and go to work. Just terrible, smh. Bitch better get life in prison."
Another chimed in with, "Stop marrying these hoes."
A third observer added, "He knew what he was getting himself into when he met her and still chose to marry her and have children. No sympathy from me. There were huge red flags all over the place and he still made the wrong choice."
Lowndes County Sheriff Eddie Hawkins told reporters Jeremy and Kadejah had been arguing all night. She caught her husband cheating with men and women and harbored trepidation he was about to reside with one of 'em. Jeremy sent this message to someone named Jessica Reeder on Facebook: "Hey sexy, how you been? Call Me." Kadejah read the post and blew a gasket.
The scorned spouse told investigators she didn't mean to kill her husband of 7 years.
Kadejah said she brandished the gun to scare Jeremy and it accidentally went off.
Even though the couple had a history of domestic violence, the shooting caused public outcry from the LGBT community.
Watch the deadly incident.
Share your thoughts.