Katt rats out the Illuminati
Katt Williams exposes Illuminati.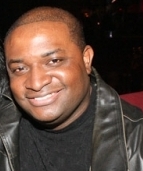 Blog King, Mass Appeal
HOLLYWOOD — A viral video shows comedian Katt Williams exposing how the Illuminati controls Hollywood entertainers. It's also his assertion the Notorious B.I.G. and Tupac Shakur were murdered by wealthy elites. The 51-year-old humorist got some sh*t off his chest during a recent chinwag with Cari Champion. "In business, nothing is coincidental or you will be hearing who's losing money in all of these situations," Katt explained. "When these rappers get killed, not incidental. Somebody made a hundred million dollars." Katt said Will Smith slapping Chris Rock at the Oscars was staged to mortify celebs and monetize their humiliation. He also said household names like Eddie Murphy, Martin Lawrence, Jamie Foxx, Tyler Perry, Marlon Wayans and Kenan Thompson were coerced to dress like women on-screen to achieve A-List status or something close. Kevin Hart landed a plethora of movie roles after dressing like a chick on Saturday Night Live. Katt, on the other hand, refused to don female raiments and it curtailed his commercial success. Ditto for Dave Chappelle who walked away from $50 million at Comedy Central.
"There aren't that many conspiracy theories anymore," Katt said.
"Because we found out that all conspiracy theories there's a nugget of truth in there. It came from somewhere."
Social media reaction was vicious.
One viewer wrote, "There's no conspiracy about Hollywood putting black men in dresses. What do the entertainers that wear dresses have in common? They're all comedians. What about actors like Denzel Washington, Morgan Freeman, George Amos, Chadwick Boseman, Michael B Jordan, etc? You know why they don't put on dresses? Because they are actual actors who can play real roles. Comedians rarely have character range and acting ability and a costume is an easy gag. If that's the case, we need to be mad about black actors being cast as gangsters, killers and drug dealers in Hollywood. Quit having selective outrage."
Another person added, "They are controlling Kanye too. He has a bunch of clones. Lol."
Watch Katt drop the bombshell.
Share your thoughts.