Black woman attacked by teenagers on a Metrobus
Teens attack woman on bus.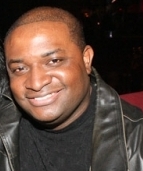 Blog King, Mass Appeal
WASHINGTON, D.C. — Rosa Parks fought for African Americans to sit on the bus. Now we have blacks throwing each other off. A viral video shows a horde of teenage zombies attacking a middle-aged black woman on a Metrobus before throwing her out in the street like a sack of trash. The assault transpired October 17th around 4 p.m. in Washington, D.C. Cell phone footage shows the miscreants kicking and punching Kyla Thurston as she held on to the door for dear life. What's sad is nobody stepped in to intervene, including the bus driver. Passengers simply remained sedentary and watched. All hell broke loose when Kyla asked the juveniles to stop cussin.' Instead of respecting their elders, the knuckleheads kicked her ass. "The only thing I said was, 'Can y'all stop the abusive language?'" Kyla recounted. "They started throwing objects at me, they started assaulting me. I held on as much as I could from them hitting me and kicking me and scratching me… I got bruises and everything on my arm."
"They ripped my jacket and threw me off the bus like a piece of tissue," she added. 
FULL VIDEO: This is the full video of what took place on a metro bus in Washington D.C yesterday that involved teens trying to remove a woman from a metro bus seen here. pic.twitter.com/xlNkm1NGgg

— Dmv Blossom 🌸 (@DmvBlossom) October 19, 2022
Kyla begged the bus driver to pull over. But it was to no avail. "All I kept on saying was 'bus driver stop the bus,'" Kyla explained. "But the bus driver never stopped." Social media reaction was vicious. One viewer wrote, "Rosa Parks and Dr. King must be looking down thinking, 'We fought for these people?'" Another added, "This is why I cross the street when I see a group of them. Disgusting."
The incident is under investigation by Metro Transit Police.
Watch the brutal attack then watch Kyla explain what happened.
Share your thoughts.