LeBron passes Kareem to become NBA scoring king

LeBron broke Kareem's record.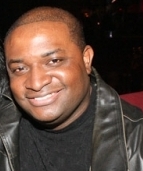 Blog King, Mass Appeal
LOS ANGELES — The Los Angeles Lakers lost the game 133-130. But King James got the record and that's all that matters. LeBron James swished a 21-foot fadeaway with 10.9 seconds left in the third quarter Tuesday night against the Oklahoma City Thunder to surpass Kareem Abdul-Jabbar as the NBA's all-time scoring leader. LeBron, now in his 20th season, entered the contest with 38,352 points — needing a measly 36 to overtake the lanky 7-footer previously known as Lew Alcindor. As soon as he hit the record-breaking shot, LeBron raised his hands in the air while gazing skyward. The game was stopped and he was quickly encircled by photographers as thunderous chants of "MVP, MVP" rained down from the capacity crowd at Crypto.com Arena. As his highlights were being displayed on the arena videoboard, LeBron was joined midcourt by his wife 'n' kids. NBA commissioner Adam Silver and Abdul-Jabbar also took the floor.
Abdul-Jabbar handed LeBron a basketball as memorabilia then they posed for pictures.
"A record that has stood for nearly 40 years. Many people thought it would never be broken," Silver said.
"LeBron, you are the NBA's all-time scoring leader. Congratulations."
LeBron, 38, took the microphone. "I just wanna say thank you to the Laker faithful. You guys are one of a kind," he told the crowd. "To be able to be in the presence of such a legend as great as Kareem, it means so much to me. It's very humbling. Please give a standing ovation to the captain, please… To my beautiful wife, my daughter, my two boys, my friends… man, everybody that's ever been a part of this run with me the last 20 years — 20-plus years — I just wanna say I thank you so much 'cause I wouldn't be me without y'all." 
"F*ck man, thank you guys," he added.
Yes, the king cussed on national television and it wasn't censored.
But it was his big moment so we'll let it slide.
LeBron, who wears No. 6, is 38 years old and he finished the night with 38 points for a total of 38,388.
Kareem's record was also 38 years old when LeBron broke it.
Do you smell Illuminati?
Should LeBron be considered the GOAT?
Watch the record-breaking shot and his emotional speech.
Share your thoughts.