Voluptuous teacher spanks student in front of the class
Teacher pummels student.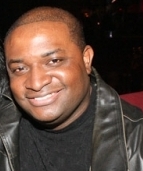 Blog King, Mass Appeal
ROCKY MOUNT — A viral video shows a big booty educator at Rocky Mount High School in North Carolina pummeling a female student in front of the entire class. The substitute teacher, identified as Xaviera Steele, confiscated the girl's cell phone — causing all hell to break loose. "You did not take nobody else's phone. You finna give me my sh*t," the student said. "Don't touch me!" Ms. Steele retorted. After the teen threw the first punch, Ms. Steele countered with a quick one-two combo. The student then grabbed the instructor's braids, pulling both chicks to the floor. Ms. Steele should've wore trousers that day 'cause you can see she didn't wear panties. Social media reaction was icy-hot. One commenter wrote, "I think teachers fighting back is justifiable. Everyday they have to go to work and there's always that one child who is defiant, disrespectful, throwing paper at them, and talking back. It can take a toll on you mentally. Then one day that same student lunges at you and tries to fight you, tell me who's going to just let it happen?"
Another person added, "She let her feelings and emotions get the best of her. She shouldn't have let a student get her to that point, regardless. The moment she saw the student start to get physical by pushing past her to get her phone, she should've gave it to her and not let the situation escalate anymore, and just written her up for being defiant, or something. But under no circumstances, should it have ever gotten to the point that it did. Like what happened to professionalism, even down to how short her dress was."
Was Ms. Steele justified in her actions?
Did the student learn her lesson?
Watch the bout of fisticuffs.
Share your thoughts.
High School Teacher with serious Cakes Ground and Pounds her Student over a confiscated phone at Rocky Mount High in NC… pic.twitter.com/a174JYGXuT

— Fight Haven (@FightHaven) April 17, 2023