Cold As Balls: Kevin Hart & Bianca Belair talk wrestling
Bianca Belair cold as balls.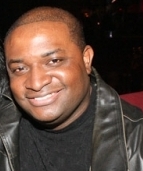 Blog King, Mass Appeal
LOS ANGELES — Bianca Belair became the latest sacrificial lamb to appear on Kevin Hart's "Cold As Balls" sports show from LOL Network. The WWE Raw Women's Champion — who's brawny, yet sexy — joined the diminutive comic in taking an ice bath to confabulate her struggles with mental health, her battle with dysmorphia, gettin' started in the wrestling business, headlining WrestleMania 37 with Sasha Banks, and her goal to kick Charlotte Flair's ass in the near future. Bianca, 34, also uses her ponytail to spank opponents. It surpasses Kevin's height and it's longer than Rapunzel's. "Are you really hurting people with that?" Kevin asked. "Yeah, I mean, I wouldn't have known because I've never taken it. But, yeah. It actually makes a little bit of a noise in the air," Bianca explained while swinging the braid around like a helicopter propeller.
Social media reaction exuded approbation. One commenter wrote, "Bianca Belair is the John Cena of WWE's women's division. She's beautiful and talented. Kevin Hart is funny as usual. Cold episode no pun intended." Another chimed in with, "Well, Bianca became the coldEST after being in that ice tub.❄️" A third viewer added, "BIANCA IS THAT GURRRLLLL!!!❤🎉 One of the most chaotic, best episodes ever. Dying the whole time!!!😅😂"
Everybody says Bianca is hotter than fish grease.
But she's off the market.
Bianca is dating WWE co-worker Montez Ford.
"Cold As Balls" airs new episodes every Tuesday on Laugh Out Loud's YouTube channel.
The show is in its 8th season.
Watch Bianca and Kevin keep it 💯.
Share your thoughts.