Burger King's top employee celebrates 27 faithful years
Burger King employee got paid.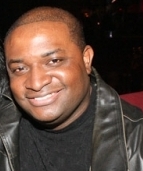 Blog King, Mass Appeal
LAS VEGAS — "Have it your way?" Burger King cook Kevin Ford, the responsible employee who didn't miss a single day of work in 27 years, received over $420,000 in retirement donations. Kevin, who worked the cash register in addition to flippin' burgers, never called in sick and he was always on time. Damn, he must've really needed that job. Kevin worked at the greasy fast food restaurant at Harry Reid International Airport in Las Vegas, Nevada. What's sad is his cheap-ass employer didn't appreciate his perfect attendance. When Kevin retired, they gave him a plastic bag of goodies that contained an assortment of candy and a movie ticket. Ain't that a bitch? Kevin showed off the goody bag on TikTok and the video went viral. Realizing her dad was gettin' sodomized with no Vaseline, Kevin's daughter — Seryna — launched a GoFundMe campaign and the rest is history. Kevin is now a rich, Whopper-makin' mothaf*cka. To this day, there's no animosity between Kevin and his frugal employer.
He simply appreciates the gesture.
"I was grateful for it," Kevin told Fox News' "America Reports" about the gifts he received from the company. "I probably gave away some of those Lifesavers… I think I might have ate a few of the Lifesavers… There's a lot of people that worked with me longer than that, 30 years, and they didn't get anything. So, I was happy with it… I've always been grateful for the little things."
Social media reaction was priceless. One commenter wrote, "The real question should be, 'Did he ever come to work sick in those 27 years?' Someone came to my job with COVID and I almost died. I dont think that person deserves a reward." Another chimed in with, "Shame on Burger King! Their CEOs get millions of dollars and he gets a goody bag." A third person added, "God Bless this man." 
Matthew 5:5 says, "Blessed are the meek, for they will inherit the earth."
Share your thoughts.