Serial butt-smeller finally busted at Barnes & Noble

Serial ass-sniffer busted.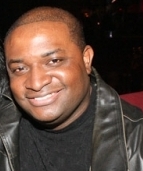 Blog King, Mass Appeal
BURBANK — Ladies, be careful when patronizing bookstores. There's a serial booty-smeller on the loose. Calese Carron Crowder, 36, was thrown in the slammer after he got caught sniffing a woman's derrière at Barnes & Noble. Damn, that's one helluva fetish. The booty-smelling ordeal transpired last week at the bookstore in Burbank, California. It was also captured on video. TikTok footage shows Calese creeping up behind Michaela Witter and inhaling her butt crack while she's busy reading a book. "What are you doing?" she asked. "Tying my shoe," he replied. Calese got a whiff of other female customers as well. The malodor is like perfume to him. Michaela disseminated the video with the caption: "The ugly side of doing things solo as a woman even in an open public space. Stalking, harrassment, etc. has happened to me way too many times but this definitely ranks top 3 creepiest moments. Please be safe and attentive to your surroundings unlike myself. Unfortunately, as women we have to have all senses aware even in spaces we wouldn't think necessary."
After Michaela's video went viral, Calese was arrested and charged with… um, I guess sniffin' a woman's ass. Sadly, accosting popsies is nothin' new to him. The serial ass-sniffer has a rap sheet that includes dozens of arrests for sex offenses, burglary and robbery dating back to 2005. The felonious bastard was also caught peeping at children on August 8th while they were in their home in Glendale, Arizona. Social media reaction was unforgiving. One commenter wrote, "Joe Biden, is that you?" Another chimed in with, "I suppose she asked for it. She should've definitely left her butt at home." A third viewer added, "Should've farted in his face."
Candace Horry, wife of former NBA player Robert Horry, said Calese stalked their daughter a decade ago.
Damn.
Does Calese belong behind bars?
Should a man be vilified for satisfying his fetish?
Watch Calese sniff some ass.
Share your thoughts.