Tiffany Haddish, Common broke up after two years
Tiffany Haddish leaves Common.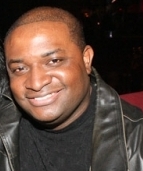 Blog King, Mass Appeal
NEW YORK — You can stick a fork in Tiffany Haddish's relationship because it's done. The 41-year-old comedienne and rapper Common have called it quits after two years of copulation despite the fact they share the same depilated coiffure. A close source said the Hollywood stars were simply "too busy" to be a couple. "They are never in the same city together," the source explained to People Magazine. "Both of them are just too busy for a serious relationship." Tiff and Common, 49, hooked up on the set of Andrea Berloff's 2019 crime drama "The Kitchen." After a few weeks of dating, the quondam lovebirds effectuated cohabitation. There was also scuttlebutt claiming Tiff was gravid. But at the end of the day, Common refused to buy the cow because he wanted the milk for free. "They're not teenagers," the source said. "You can't go 'date' a woman for two years and not talk about marriage, or an engagement or something."
"It was clear Common wasn't ready to be married, so Tiffany's not wasting her time," the source continued.
"Yeah they'll still see each other, but Tiffany's trying to find a husband."
Are you happy to see them split?
Is marriage imperative?
Share your thoughts.