Taye Diggs came out the closet as a 'homosexual'
Taye Diggs officially homo.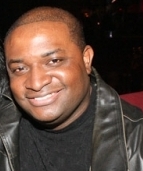 Blog King, Mass Appeal
HOLLYWOOD — We can bid farewell to Taye Diggs' masculinity because it's gone. The 50-year-old thespian effectuated a closet egress yesterday with an exercise video that shows him lookin' sweeter than a box of Froot Loops. Now we know why he starred in "Brown Sugar." In the clip, Taye and a female confrère performed a series of Tae Bo-esque dance moves to Fergie's "Fergalicious." The woman was erotic and sexy but Taye came off as being full-blown Liberace gay. The effeminate negro was switchin' and voguing like a runway model. It's really a damn shame. Gotta admit I'm not surprised. If you recall, Taye looked gay as f*ck in Kevin Sullivan's 1998 film "How Stella Got Her Groove Back." Think about it. No straight man ever admits to being a chef. A real G would call himself a cook and leave it at that.
Not to mention Taye has white teeth whereas alpha males don yellow.
Social media reaction was priceless. One viewer wrote, "I don't know if he is gay or not but there is a problem with this video and others like it. If wearing a Native American headdress and clothing for Halloween isn't acceptable because their culture isn't a costume then why would straight men behaving in a feminine manner be accepted as playing a joke or fun?"
Another added, "U go girl! 🤣😂🤣"
Watch homo footage.
Share your thoughts.