Aussie simp is marrying voluptuous female robot
Crazy man fell in love with a robot.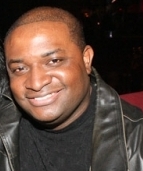 Blog King, Mass Appeal
QUEENSLAND — Geoff Gallagher, the Australian simp who once said "he'd never find love," is no longer single. That's because he's in a monogamous relationship with a voluptuous android he purchased for $6,000. Geoff, who's from Queensland, spent the past decade jerking off at home with his dog Penny. But, after stumbling across a news article about artificial intelligence, Geoff reached out to a robot salesman. Now he's the proud recipient of synthetic nooky. "At almost AUD $6,000 (£3,225) each, they weren't cheap," he told 7 News. "But the robots were very lifelike. They could talk, smile and move their head and neck. Their skin even warmed up like a real human." Geoff waited 6 weeks for Emma to be assembled in China. She was shipped to Australia in September 2019. But he had to help her get acclimated to society.
"She couldn't stand on her own, so most of the time I left her sitting on the chair," Geoff recounted. "I talked to her as much as possible so she could get used to my voice. 'Emma, what's the weather like?' I'd ask, as I got ready for work. With each conversation, she became smarter, soaking in the information and learning new words."
In addition to being beddable, Emma is quiet and acquiescent.
Also, rumor has it, her vulva emits sparks during copulation.
Geoff said he plans to put a ring on it.
Are you happy for him?
Will robotic popsies replace biological women?
Share your thoughts.