Black-ish: Anthony's wife divorcing him once again
Anthony gettin' a divorce.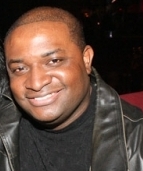 Blog King, Mass Appeal
LOS ANGELES — You can stick a fork in Anthony Anderson's marriage because it's done. The "Black-ish" star and wife, Alvina, are calling it quits after 22 years of holy matrimony. Alvina filed dissolution docs Friday afternoon in Los Angeles Superior Court citing irreconcilable differences. The gold digger is demanding alimony and full reimbursement of attorney fees. She also wants half of Anthony's sh*t, including his mazuma and pecuniary assets. There's no prenuptial agreement. Anthony, 51, and Alvina have two adult children so child support is irrelevant. The quondam lovebirds first hooked up as students at Howard University in 1989. They got hitched 10 years later. Filing for divorce is nothin' new to Alvina. If you recall, she did it in 2015 then dropped the case after Anthony landed a high-paying gig on "Black-ish." Social media reaction was sweet and sour. One fan wrote, "I'm sorry to hear this. He seems like a good man, but we don't know what goes on behind the scenes. Unless he had an outside baby or abuses her, I don't see a point in getting a divorce after 22 years. The next man she gets will NOT be on his level."
Another fan chimed in with, "Damn, divorce for the 2nd time lol and she DEMANDS payment 😂😂😂! Marriage is a financial death sentence for 85% of men lol." A third fan added, "Who gives a sh*t what these women want? Fellaz, if your girl wants to leave you, let the door hit her where the good Lord split her, and never take her back."
Does Alvina deserve half or should the judge make her get a f*ckin' job?
Also, do you think western culture is conducive to having loving, healthy relationships?
Share your thoughts.