Tiffany Haddish is dating rapper who's half her age
Tiffany in midlife crisis.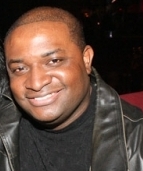 Blog King, Mass Appeal
LOS ANGELES — Tiffany Haddish's next film should be called "How Tiff Got Her Groove Back." That's because the 42-year-old comedienne pulled an Angela Bassett by dating 23-year-old rapper Pooch the Stallionaire who starred in Zeus' reality TV show "One Mo' Chance." Paparazzi spotted Tiff and her new boy toy having supper together last night at Craig's restaurant in Hollywood. The cradle-robbing actress also brought his Similac-drinking ass to the Oscars. Tiff ain't been the same since Common, 50, dumped her ass around Thanksgiving. The "Girls Trip" star shaved her head bald, got busted for a DUI, now she's Hollywood's newest cougar. Social media reaction was cold-blooded. One fan wrote, "When women hit the wall, they lower their standards. Not because they want to, they have no choice. The wall is forever undefeated."
Another fan chimed in with, "Oh damn, midlife crisis." A third observer added, "Tiffany Haddish… a girl like her, a woman like her, should be a prize to get. She's fun, funny, very pretty and Eritrean. So she got that exotic aspect workin.' So what's the problem? Hollywood culture contaminates everything and everyone it touches. That's the problem." 
Tiff and Pooch have a 19-year age aperture?
Is that too wide?
Does she need someone older?
Watch Tiff and Pooch discuss their relationship.
Share your thoughts.