Kenan Thompson & wife Christina getting divorce
Kenan Thompson got dumped.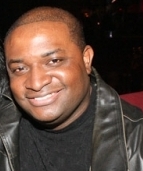 Blog King, Mass Appeal
LOS ANGELES — You can stick a fork in Kenan Thompson's marriage because it's done. The "Saturday Night Live" star and his Caucasian wife — Christina Evangeline — are calling it quits after 11 years of holy matrimony. The swirlers have been separated a year. But Kenan wasn't f*cking her right. Now they're going to divorce court. Kenan, 43, and Christina, 33, got hitched November 2011 in a private ceremony at Atlanta's Georgia Aquarium. They have two daughters: Georgia Marie, 7, and Gianna Michelle, 3. So Kenan will definitely pay child support. Christina, who works as an interior designer, is seeking alimony too. She's also gonna get half his sh*t because there's no prenuptial agreement in place. Social media reaction was vicious. One fan wrote, "Marriages between black men and white women have the highest failure rate." Another added, "Clearly the concept of marriage is not working and it's only going to get worse as the economy goes down the toilet. To all the fellas out there: unless you want kids, marriage is a bad idea. It's a lose-lose situation for the husband and a win-win for the wife. Plus, she's incentivized to divorce your ass after a certain amount of years as well as the amount of kids she has by you. Other than that, marriage ain't worth it 💯."
During a recent appearance on The Tonight Show, Kenan confabulated the storyline of his new self-titled sitcom. In the NBC comedy, Kenan plays a widowed father of two girls. Christina hates the show. "She was like, 'Oh, so I'm dead?'" Kenan told host Jimmy Fallon. "But, I mean, she was just giving me a hard time. But I was like, 'Yeah … it's not you, you know what I mean? It's a show. It's a different thing.'" Kenan is in Los Angeles working on the show. Christina and the children reside in New York.
Share your thoughts.