'Human Satan' had nose amputated, horns added
Human Satan makes headlines.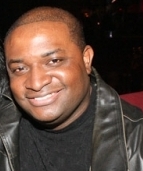 Blog King, Mass Appeal
BRAZIL — Michel Faro do Prado, a 44-year-old tattoo artist from Brazil, is making headlines for transforming himself into the devil. Yep, the n*gga dubbed "Human Satan" underwent cosmetic surgery to have his ears, fingers and nose amputated. He also had a pair of horns implanted on his forehead and his belly button hacked off. Michel even had his denticles customized with a set of metallic vampire-like dentures. The body modification enthusiast shared a recent photo with 123,000 Instagram followers. When asked why he had his countenance altered, Michel said "to celebrate the end of the COVID-19 mask mandate." He then went on to say, "I believe that the true image of the devil is beautiful, the Bible says this in Genesis and also the same way in the book of Isaiah, which says Jesus was ugly. That he looked like a dry root in the desert. He did not inhabit any beauty, so if it is a matter of fiction that the Devil looks likes me more, in my heart I prefer God and doing good."
Social media reaction was fierce. One person wrote, "I just don't understand how someone can modify their body to this extent. There's no going back. If you try to fix this, you'll still have scarring and disfiguration. You'll never look like your old self again and will have to live with this the rest of your life." Another added, "If I ran into him in a dark alley… Hell… if I simply ran into him in broad daylight I'd probably be scared stiff. Damn."
Michel is reportedly married with children.
Do you think he's certifiably cuckoo?
Does he belong in a mental institution?
Watch disturbing footage.
Share your thoughts.