Sasha Obama dates actor Clifton Powell's 6'5″ son
Sasha no longer single.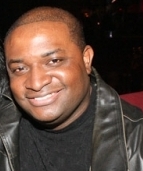 Blog King, Mass Appeal
LOS ANGELES — They grow up fast. Sasha Obama, 20-year-old daughter of quondam President Barack Obama, is giving up the derrière to a new Mandingo boyfriend and he's the 24-year-old son of "Ray" actor Clifton Powell. Yep, Sasha and Clifton Jr. started knockin' boots after she migrated to Los Angeles to pursue a higher education at the University of Southern California. She attended the University of Michigan prior. Cliff, who stands 6-foot-5, is a former college basketball player who now directs television commercials. He grew up in Ladera Heights and he attended Village Christian High School where annual tuition exceeds $28,000. Sasha, if you recall, was romantically linked to an unemployed actor so Cliff is definitely an upgrade. Hell, at least that n*gga got a f*ckin' job. Social media reaction was comical. One person wrote, "He's not cute." Another chimed in with, "Black man with a black woman, GOD is good!" A third observer added, "Naw…. Sasha can do waaaaaay better! She should be dating a wealthy NBA player or some other super rich hottie." 
Do you approve of Sasha's relationship?
Is Cliff good enough?
Share your thoughts.