Mo'Nique's out the closet, announces she's bisexual
Mo'Nique likes to f*ck girls.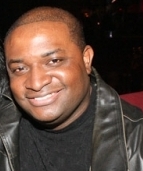 Blog King, Mass Appeal
HOLLYWOOD — If you recall, Mo'Nique raised eyebrows a few years ago when she announced she and her husband — Sidney "Cuckold" Hicks — are into "swinging." Welp, turns out, there's much more. Not only is she involved in an open marriage, Mo'Nique is bisexual. Yep, she copulates with chicks while jerking d*cks. Big Mo' egressed the LGBT closet in her new Netflix comedy special "My Name Is Mo'Nique." The 55-year-old comedienne has already lured a harem of popsies into the bedroom and Sidney ain't complaining. Why should he? He's probably treated to a Ménage à trois every night. "I said Daddy, I want to be with other women sexually," Mo'Nique pleaded. "And he looked at me so patiently and so lovingly and said 'Bitch, I do too.'" Sidney also said he's sticking with Mo'Nique, side nooky be damned. After all, they've known each other for decades.
"[F*cking other people] is not going to change the dynamic of our relationship because I'm in love with this woman," Sidney explained. "I've been involved with someone for 33 years of my life, since we were kids. I've known her longer than I haven't known her, so when you start saying to yourself the spirit that you came into this universe with is the spirit that you're gonna exit this world with… are you going to be yourself through having an open conversation and an open dialogue and an open relationship?"
Social media reaction was all over the place. One viewer wrote, "I don't judge people for what they enjoy in the bedroom. But why does everyone have to know?" Another chimed in with, "The more I learn about the Satanic nature of American women, the less I want to be in a relationship with 'em." A third observer added, "Very disgusting. Fellas, get your passport."
Last year, Mo'Nique reached a $50 million settlement with Netflix in a discrimination lawsuit.
Now she's coming out bisexual.
Do you sense a correlation?
Share your thoughts.