Gang-bangin' bus driver & Pookie shoot at each other
Bus driver shoots passenger.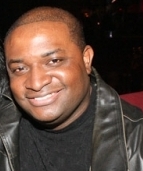 Blog King, Mass Appeal
CHARLOTTE — Now we see why Eboni K. Williams won't date bus drivers. The Charlotte-Mecklenburg Police Department released surveillance footage that shows CATS bus driver David Fullard and passenger Omarri Shariff Tobias, 22, shooting each other on a moving transit. The gunfight broke out May 18th. All hell broke loose when Tobias implored Fullard to let him off between designated stops because he wanted to get a burger at McDonald's. When Fullard told him to remain sedentary and wait, Tobias pulled out a gun and brandished it. "I'm going to pop your ass!" he said. Not to be outdone, Fullard disclosed his gat too and the trigger-happy pair fired "in rapid succession." Rat-a-tat-tat was on full display. Tobias was shot in the abdomen. Fullard was struck in the arm. Both were hospitalized in stable condition and expected to recover. There were other passengers on the bus but they weren't harmed. Social media reaction was priceless.
One commenter wrote, "Even hard-working black people are sick of Pookie & Ray Ray."
Another chimed in with, "Give the driver a medal and promotion."
A third viewer added, "Bus driver was shootin' gangsta sideways style, almost like he's done it before."
Tobias was arrested and charged with assault with a deadly weapon. Fullard didn't get a medal or promotion. Instead, he was fired after 19 years of service for violating the Charlotte Area Transit System's workplace policy that bans firearm possession while on duty. Fullard's boss believe he could've defused the situation by pulling over and letting Tobias egress early. "It would have been reasonable for the operator to attempt to de-escalate the situation by allowing the suspect/passenger to exit the bus before arriving at the next bus stop," CEO Brent Cagle told reporters.
Moral of the story: McDonald's burgers are so scrumptious, they're worth dying for.
Watch the gunfight in its entirety.
Share your thoughts.
Charlotte, North Carolina: Newly released surveillance footage shows a dramatic shootout between a North Carolina public bus driver and passenger while the bus was in motion.

The shooting occurred on May 18 on a Charlotte Area Transit System (CATS) bus, after the passenger asked… pic.twitter.com/DNf9h8c8N7

— Dr. PMS (@ps1ack) May 28, 2023