Flex & Shanice went from wealthy to homelessness
Flex & Shanice went broke fast.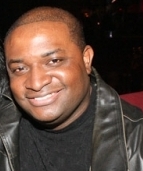 Blog King, Mass Appeal
HOLLYWOOD — Being rich and famous is cool and all. But sometimes you gotta get off ya derrière and work. Spill Today released the documentary of comedic actor Flex Alexander and R&B songstress Shanice Wilson — the husband and wife duo who regressed from generational wealth to homelessness at the blink of an eye. From the outside looking in, Flex and Shanice appeared to have a fairytale marriage. But they were living a big fat lie. As a matter of fact… money had gotten so tight, they were relegated to moving in with family. "It happens a lot," Shanice explained. "That's why you have to know what you're signing. You gotta have the right people around you. It's a dark industry. It can really mess you up." All hell broke loose when Shanice became gravid and the record label dropped her like a bad habit. Company execs thought she'd lose her sex appeal.
The "I Love Your Smile" singer did, however, record an album without a label.
But, needless to say, it didn't go well.
Shanice's music métier was pretty much toast.
The arrow appeared to be pointing up in 2001 when Flex caught a big break and landed a starring role on the UPN family sitcom "One on One," earning $25,000 per week. But when the network canceled the show after 5 seasons, Flex and Shanice were suddenly mired in destitution. They didn't have a pot to piss in, nor a window to throw it out. "As a man, I felt like I had failed," Flex bemoaned.
"My show had finished and the money had stopped but the expenses stayed there. Our mortgage was $4,000 to $5,000 a month. We had cars, credit card bills. We refinanced our mortgage to pull money out to keep pushing along."
In addition to refinance, the penurious lovebirds tapped into their retirement to cover expenses, and that included the mortgage on their upscale residence in Los Angeles. But, in 2010, they came home and found a foreclosure notice on the front door. Soon after, Flex and Shanice began liquidating assets. They sold their designer watches, jewelry, and their fleet of luxury cars.
They filed bankruptcy to stay afloat, then moved into a rental home with relatives to split bills.
During an appearance on "Black Love," a lachrymose Flex recalled borrowing money from actor Chris Spencer to take Shanice out on a date. It's some of the saddest sh*t you'll ever see. "[It was] our anniversary and I couldn't do anything for you," Flex told Shanice before wiping away tears. "And Chris, he gave me $350 so that I can take you out."
Memo to fellas: Never, ever tell your woman you're broke. Take that sh*t to the grave.
To say they hit rock-bottom would be a vast understatement.
But, rather than sulk in penury, Flex and Shanice did a self-titled reality television show to reveal their pecuniary struggles. The show was hardly a cash cow. It ran for only two years. But a paycheck's a paycheck; especially when you're penurious. "It was something we both agreed to do," Flex recalled, referring to the reality series.
"We had gone through tough financial times and just everything was upside down. We wanted to tell a story that's inspiring, that people can look and say, 'hey it's not just me.'"
"At one point, her music stopped," Flex continued. "One on One ended, and you have these expenses and nothing is coming in to replenish those expenses… everything's going out… We lived at the Embassy Suites… Yes, we lost our home… We were living in a hotel."
Don't mean to kick a man when he's down, but Flex should've filled out some job applications.
Carl Anthony Payne, who played Cole on "Martin," sold used cars to make ends meet.
Ditto for "Cosby Show" actor Geoffrey Owens who bagged groceries at Trader Joe's.
There's no excuse.
Flex is lucky Shanice didn't divorce his ass.
That said, let's give 'em credit for eschewing the Illuminati.
They stayed loyal to God when it would've been profitable to sell their souls.
Watch the explosive documentary.
Share your thoughts.