Nigerian pastor flogged churchgoers with a belt
Nigerian pastor spanks congregants.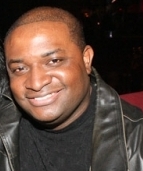 Blog King, Mass Appeal
LAGOS — First, a reverend shaved off the pubic hair of popsy congregants. Then a minister gave female churchgoers a bath during service. Now this: A video has gone viral that shows a Nigerian pastor and a trio of deacons flogging church members with belts as they laid face down on the floor in front of the altar. Lord have mercy. The reason for the spanking is unknown. But the clergymen were sadistic. The entire congregation witnessed the butt-whuppin.' Social media reaction was unforgiving. One viewer wrote, "There's a special place in hell for these people." Another chimed in with, "That pastor would have that belt wrapped around his THROAT if it was Me!" A third viewer added, "THIS IS DEMONIC AND SICK!!!!! Oh my God!! I thought I'd heard and seen it all when it comes to church foolishness. Well, I guess I haven't. BE CAREFUL PEOPLE!! The spirit of error is alive and well, especially in these cult influenced synagogues of Satan! The good news is God is going to put an end to all this madness, and his truth will PREVAIL!"
Was the preacher out of line?
Are church members culpable for being sheep?
Watch the spanking.
Share your thoughts.