Homeless man smeared dookie on woman's face
Crazy dude unleashed poop attack.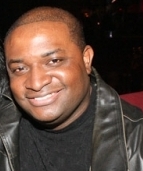 Blog King, Mass Appeal
BRONX — Law enforcement officials in the Bronx, New York are investigating after Frank Abrokwa smeared human feces all over a woman's countenance at a subway station for no damn reason. Yep, the homeless bastard pulled out a bag of turds and wiped 'em on her face as she was sedentary on a bench. He also thwacked her multiple times. The 43-year-old victim told investigators she don't know who the f*ck Frank is. She was completely blindsided. Police threw Frank's black ass in jail. During his arraignment, he told the judge, "F*ck you!" Then called the victim a "bitch!" According to court docs, Frank flirted with the woman prior to the assault. "Hey, Mamie, hey, Mamie, why don't you talk to me?" he said. When the lady refused to give him her phone number, a pissed-off Frank defecated in a sack and unleashed the dookie attack. Nasty sumbitch!
Frank is charged with assault, reckless endangerment, intimidation, disorderly conduct and harassment.
Running afoul of the law is nothin' new to him.
The poop pimp has a rap sheet comparable to Charles Manson's.
Frank's been arrested at least 20 times for robbery, assault and forcible touching.
Watch disturbing footage.
Share your thoughts.