Mo'Nique slaughters D.L. Hughley during her show
Mo'Nique slams D.L. Hughley.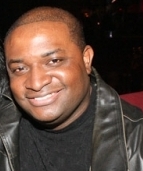 Blog King, Mass Appeal
DETROIT — Mo'Nique has a renowned hit list that includes Lee Daniels, Tyler Perry, Steve Harvey and Oprah Winfrey. Now she has D.L. Hughley within the crosshairs of her Hollywood rifle. During her stand-up comedy performance Saturday night at Detroit's Fox Theater, Mo'Nique spewed a profanity-laced tirade for the ages and it was over an indenture breach. The blackballed actress claimed she was the rightful headliner, not Hughley who closed out the show. "That's what the mothaf*ckin' contract says," she told the audience. "Mo'Nique is to be the last mothaf*ckin' person on the got damn stage. She is the headliner. That's what I signed the contract for!" Mo'Nique, 54, also called Hughley a "b*tch ass n*gga" before insinuating he's a fag. "So when I leave this mothaf*cka the headliner has left," she ranted.
"That b*tch n*gga has crossed the mothaf*ckin' line!"
"Y'all don't understand I was getting ready to walk the f*ck up out of here," the Academy Award winner explained. "But I said, 'I can't let the people down. I'm 30-plus years in this mothaf*ckin' business and I don't open for no goddamn body."
Hughley, 59, was quick to clap back. "All you have to do is check the order of names on the ticket stub from last night and you'll see who's confused," he explained. "Against my better judgment, over the objections of my team and four other occasions where I said 'NO,' I decided to take a chance and work with Mo'Nique. Oprah was the problem, Tyler Perry was the problem, Charlamagne [tha God] was the problem, Steve Harvey was the problem, Lee Daniels was the problem, Netflix was the problem… Now it's my turn. At some point it can't be everyone else, IT'S YOU!! Lesson learned. I didn't have anything personal against Mo'Nique… People paid a lot of money to laugh, not hear about your contract. Apparently, the role you played in 'Precious' turned out to be an autobiography." 
Ouch! That's cold.
Rumor has it Mo'Nique's husband wrote the contract.
Are you disappointed in her?
Should conflicts be resolved behind closed doors?
Watch Mo'Nique get in Hughley's ass.
Share your thoughts.