Tearful Flex told spouse Shanice he's dead broke

Flex broke down.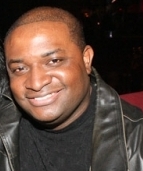 Blog King, Mass Appeal
HOLLYWOOD — A viral video shows "One on One" actor Flex Alexander confessing to his wife — R&B singer Shanice — that he's so broke he once borrowed $350 to take her out on a date. Flex and Shanice, if you recall, filed bankruptcy a few years back that left them homeless and destitute. A lachrymose Flex dropped the bombshell during an appearance on "Black Love" with comedic host Chris Spencer. "[It was] our anniversary and I couldn't do anything for you," Flex, 52, told Shanice as he wiped away tears. "And Chris, he gave me $350 so that I can take you out." Chris, who also cried like a lil bitch, replied: "You weren't supposed to tell her." A shell-shocked Shanice, 49, was at a loss for words. She was completely blindsided. "Wow, this is my first time hearing this," Shanice said. "Thank you, Chris." Look, it's not unusual for entertainers to fall out of favor in Hollywood. After all, Mo'Nique was blacklisted for years. Ditto for Isaiah Washington. But there's 3 things wrong with this story.
1) Flex ain't disabled and he's in good health. Get a f*ckin' job! Carl Anthony Payne, who starred on "Martin" and "The Cosby Show," is selling cars to make ends meet. A stagnant métier is no excuse for penury. 2) There's no way in hell I'm tellin' my woman I borrowed money to take her out. I would've took that sh*t to the grave. And 3), N*ggas cry way too f*ckin' much. It's gay and mortifying. The way I see it, there's only two acceptable scenarios for a man to snivel: Your mama died or you got shot in the ass.
Anything else, MAN UP!
Watch the emasculate video.
Share your thoughts.