Beyoncé impersonator is thriving as a transgender
Riley Knoxx says she's a woman.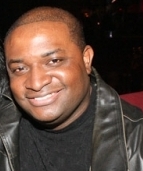 Blog King, Mass Appeal
WASHINGTON, D.C. — Beyoncé impersonator Riley Knoxx has heterosexual men paranoid because he's out here flossin' as a transgender woman and the Average Joe can't decipher the dissimilarity between a biological popsy and a tranny. Can't lie, Riley is a spitting image of Queen Bey despite being born with a penis and Adam's Apple. He's also a fashion designer, he performs at NBA games, and he's in a music video with Taylor Swift. But, not everybody's a fan. R&B singer Macy Gray pissed Riley off when she said, "You're NOT A WOMAN just because you got surgery!" During Monday's appearance on Piers Morgan Uncensored, the 54-year-old Grammy winner told host Morgan: "I will say this and everyone's gonna hate me but, as a woman, just because you go change your [body] parts, doesn't make you a woman, sorry."
Social media reaction was mixed. One viewer wrote, "Totally agree… Men are men and women are women. Tough sh*t!" Another chimed in with, "Who cares what Macy Gray has to say. The only reason she's on Piers Morgan's show is because she has an axe to grind with transgender people." A third observer added, "That's right queen! Speak the truth!" 
Riley clapped back with a video saying, "F*ck Macy Gray!" 
She also called Piers Morgan an "asshole."
Do you agree with Macy?
Are transgender women overstepping their bounds?
Watch the videos.
Share your thoughts.