Jalen & Molly are calling it quits.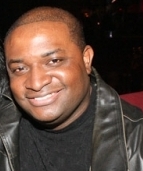 Blog King, Mass Appeal
BRISTOL, Conn — Coronavirus is a bitch! You can stick a fork in Jalen Rose's ESPN marriage because it's done. The "Jalen & Jacoby" star is divorcing "First Take" host Molly Qerim after three years of holy matrimony which includes a one-year separation. Jalen, who played 13 seasons in the NBA, filed dissolution documents in April — just months after the quondam lovebirds starred in a Gatorade commercial together. Jalen, 48, cited irreconcilable differences. But word on the street claims he's seekin' younger p*ssy. Molly is 37. "We both agree remaining friends and colleagues is the best course of action for our relationship moving forward," he explained in a statement. Jalen and Molly don't have kids together so child support won't be an issue. They've also made it crystal clear neither side wants alimony. There's no prenuptial agreement in place. Jalen and Molly got hitched in New York during a sub rosa ceremony in July 2018. Because their cessation is amicable, both will continue to work at ESPN.
Social media reaction was unforgiving. One twitter user wrote, "So Jalen Rose is filing for divorce from Molly Qerim. He was caping hard when she was 'offended' by LaVar Ball's 'Switch Gears' comment. She tried to clown him when he said a man is as faithful as his options. This happens when n*ggas gas up unattractive nonblack b*tches!"
Another added, "Lavar Ball somewhere laughing at Molly and Jalen Rose divorce."
Molly, if you recall, had Lavar Ball banned from ESPN after she accused him of flirting with her on the air.
Lavar is the father of NBA guards Lonzo Ball and LaMelo Ball.
Celibacy be damned, a pair of ESPN employees claim Molly is secretly giving up the ass to her co-host — Stephen A. Smith.
"She's definitely Stephen A's type, a non-Black woman with 'exotic' features.' Molly is ethnically mixed, Italian and Albanian," one employee said.
"They flirt a lot on camera. I thought it was all just play-play. But now that we learn she's been single for a year. Yeah, it seems like something is up," said the other.
Are you shocked at the news?
Is Molly better off dating Stephen A?
Share your thoughts.