Road Rage: White dude attacked black woman
White guy fights black chick.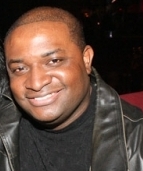 Blog King, Mass Appeal
HOUSTON — Law enforcement officials in Houston, Texas are investigating after a white man fought a black woman during a fit of road rage. The bout of fisticuffs transpired Friday evening in the middle of the damn street. It was also captured on video. Cell phone footage shows the apoplectic Caucasian jumpin' on the windshield of Brittany Wilson's BMW before snatching off her wig. He also appears to expectorate in her countenance. Brittany, a 22-year-old army specialist, countered with a quick one-two combo to his jaw. The assailant then ran like a lil bitch. Brittany told reporters he followed her for several miles prior to the attack. "He started yelling at me, I started yelling back," she recounted. "I emerged in front of him and he got like very angry." Brittany said after he leaped on her car "the whole windshield was caved in." What's sad is a handful of drivers descried a man fighting a woman and nobody stepped in to conciliate. Thank God Brittany is military trained.
The camouflage-wearing damsel held her own and then some.
Watch the boxing match.
Share your thoughts.