Black Panther's Coogler accused of robbing bank
Coogler mistakenly suspected.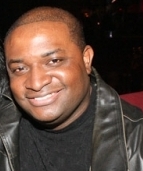 Blog King, Mass Appeal
ATLANTA — "Black Panther" director Ryan Coogler was arrested in January after police officers mistakenly accused his black ass of robbing a bank. The entire ordeal was captured on video. The 35-year-old filmmaker was in Atlanta making a withdrawal from Bank of America. But, because Coogler was seeking an amount in excess of $10,000, the teller received an alert on his account. Coogler also wrote a note on the back of his withdrawal slip stating he wanted the mazuma to be counted discreetly. The teller freaked out, informed her manager and 911 was called. Coogler was handcuffed and thrown in the back of a police cruiser. Two members of his retinue, who were waiting outside in what was perceived as a getaway car, were also detained. Coogler was released after officers verified his identity. Thank God they didn't beat his ass. "This situation should never have happened," Coogler said. "However, Bank of America worked with me and addressed it to my satisfaction and we have moved on."
Social media reaction was unforgiving. One viewer wrote, "Not the first to be arrested for banking while black." Another chimed in with, "This is straight up racism, if a white man did what he did there would not have been a problem." A third viewer added, "Gee, when I ask for a large amount of cash from the bank, they ask for my ID, not call the police."
In the teller's defense, Coogler was donning a mask, shades and skully.
He certainly profiled as a bank robber.
Coogler was in town working on the production of "Black Panther: Wakanda Forever," the sequel to his 2018 blockbuster.
He probably wishes he was in Wakanda.
Watch police body cam footage.
Share your thoughts.