Black dude body slams girlfriend out in public
Thug assaults girlfriend.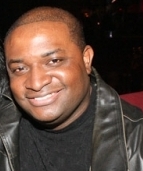 Blog King, Mass Appeal
HARLEM — Law enforcement officials in Harlem, New York are investigating after a punk-ass black dude beat the sh*t out of his girlfriend in the middle of the damn street. The beatdown was descried by several bystanders who, not only failed to intervene but, chortled in merriment. The ass-whuppin' was also captured on video. Cell phone footage shows the Ike Turner wannabe wrestling with the woman before slamming her ass to the pavement with Stone Cold Steve Austin's "Stone Cold Stunner" finisher. That move could've killed her. The battered damsel is lucky to be alive. Social media reaction was unforgiving. One viewer wrote, "You can break a person's neck like that. Notice the people in the background laughing. Those are the same type of people who are mad at Will Smith. Everyone needs Jesus in their life!"
Another chimed in with, "When Stone Cold Steve Austin does it, there is a audience full of people paying. When the Black man does it, the only people looking for him are the police…ain't that a blip?"
A third observer added, "Not his first time, and not her last."
Watch the disturbing video.
Share your thoughts.