Tranny Shauna Brooks said Benzino 'claps her cheeks'
Benzino threatens Shauna.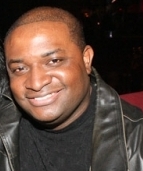 Blog King, Mass Appeal
ATLANTA — Hell hath no fury like a tranny scorn? Transgender model Shauna Brooks damn near broke the Internet last week when he divulged an alleged dalliance with "Love & Hip Hop Atlanta" alum Benzino. But if Shauna ain't careful, he's gonna end up six feet under. That's because Benzino (né Raymond Leon Scott) threatened bodily harm during a Twitter diatribe for the ages. "You keep lying on me I am gonna hunt you down and Im going to jail," he wrote. "This person has crossed a dangerous line and I've already accepted that at 56 years old I will die now or go to jail for the rest of my life over my name, reputation and legacy. This weirdo mf is playing with y'all, not me. He/she still haven't said that we never met in person." Benzino also issued a stern warning to media outlets and bloggers like yours truly. "Anybody, and I mean anybody who had written a blog or on YouTube tryna make money off of this is about to be sued," he vowed. "This internet will get someone killed for real, and know this, on my mother I dare a mf to say something IN PERSON to me about this false bs."
In these exclusive videos, Benzino admits his attraction and desire for more with Shauna, but became infuriated with her when it got to the point that she wanted to take things public because he felt people would "look at him crazy" 🥴 (THREAD) pic.twitter.com/cjfInKGdJl

— KenBarbie™ (@itsKenBarbie) April 11, 2022
Benzino went on to say his lawyer is prepared to post bail to which Shauna, 32, replied, "He said if I had any 'sense'😕 but just last week didn't the ppl say you & your alleged 'male friend' CAVARIO ain't have enough CENTS to pay the Red Roof Inn. Yet, talkin bout you got a legal team to make sure you're on point with bail, while you PUBLICLY THREATEN me… OK DADDY🙄." 
Daddy? That's somethin' a woman calls a man between the sheets.
Is Shauna wrong for tellin' the world Benzino clapped his cheeks?
Do they make a cute couple?
Watch Benzino beg to keep their romance a secret in the Twitter video above.
Watch Shauna reveal details of their relationship below.
Share your thoughts.