Blac Chyna got baptized followin' Kardashian trial
Blac Chyna got baptized.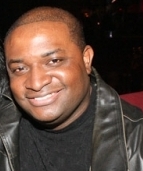 Blog King, Mass Appeal
LOS ANGELES — We don't have to worry about Blac Chyna cussin' out unvaccinated passengers at the airport anymore because she just surrendered her life to Jesus. The reality TV star disseminated an Instagram video Wednesday afternoon that shows her gettin' baptized on her 34th birthday. By doing so, Chyna washed away the infamous Kardashian Curse. "Born again on my birthday, 5/11/22 #newbeginnings," she captioned the clip. Social media reaction was cold. One viewer wrote, "Did the holy water start to boil?" Another chimed in with, "Jesus, the WHITE KNIGHT to the rescue to save another BLACK woman." A third observer added, "I would have thought that she would've turned into a burst of flames just as the baptismal water touched her skin."
When Chyna tweeted "new beginnings," she's talkin' about giving herself a fresh start in the aftermath of losing her defamation trial against the Kardashian-Jenner family. Chyna (né Angela White) sued their asses for $100 million when her spinoff series "Rob & Chyna" was canceled in 2017. The cantankerous damsel told the judge they lied on her to get her fired. Chyna is Rob Kardashian's baby mama. They share 5-year-old daughter Dream Renée.
Do you think Chyna is serious about being a Christian or is this a publicity stunt?
Are you ready to turn you life over to Christ?
Watch the baptism.
Share your thoughts.