Alex Stein rips Vegas.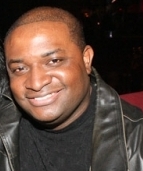 Blog King, Mass Appeal
LAS VEGAS — A viral YouTube video shows comedic rapper Alex Stein excoriating city council members — claiming Las Vegas businessmen routinely swindle tourists. Alex, who has made a habit of trolling public forums nationwide, also accused casino owners of gettin' customers drunk on purpose to rip 'em off. "I think these casinos take advantage of people by giving people free drinks and they become vulnerable and end up gambling more money than they have," he told Mayor Carolyn Goodman. "And I was a victim of that and I lost a lot of money." After revealing his wife's boyfriend got her pregnant, Alex claimed he was sexually assaulted by a transgender prostitute who took advantage of his inebriation. "You're preying on people like me," he ranted. "Then I end up meeting a nice Filipino girl. I take her back to my hotel room. Come to find out, it cost money for her service… I end up having a good time. We start kissing. We take off her clothes. She has male genitalia. She's a transgender."
Mayor Goodman quickly cut him off then had marshals escort his ass out the building. Alex did, however, commend the council for funding a 24-hour COVID vaccine operation on Fremont Street — the first in the United States. Social media reaction was hilarious. One viewer wrote, "Vegas gives people free drinks and then encourages people to gamble? The Hell you say sir!"
Another added, "The vaccine on Fremont… too funny! 😂😂"
Do you share Alex's sentiment?
Are casino owners culpable for gambling debt?
Watch Alex's rant and his appearance on Jason Whitlock's "Fearless" podcast.
Share your thoughts.