Kirk Franklin tells wife he's obsessed with porn videos
Kirk Franklin had porn addiction.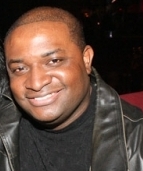 Blog King, Mass Appeal
FORT WORTH — A viral video shows gospel artist Kirk Franklin telling his wife he's addicted to porn. The "Stomp" singer said the fixation began when he was a pup at 8 years old. "Growing up, everybody's got a friend that's got that big brother that has the stash [of pornographic magazines or videotapes] under the bed," he recalled. "From my first look, I was hooked." Kirk, who was adopted, also blamed his biological parents for treating him like little orphan Annie. It's been a Hard-Knock Life. "I was adopted when I was 4," Kirk said. "The woman who adopted me, she was 64 years old. My mama didn't want me; my daddy wasn't there. So there were a lot of insecurities and low self-esteem. For me, [the porn] was like company." When he said "I do" to Tammy Collins in 1996, Kirk assumed marriage would fix his obsession.
It didn't.
Instead… he found himself sneaking around the house, watching sex tapes and jerkin' his phallus while Tammy was asleep.
That's when Kirk realized he had an acute masturbation problem.
"He sat me down, and he said, 'Babe, I want to talk to you about a problem that I've been struggling with,'" Tammy recounted. "He had such sincerity in his eyes — you could tell that this pained him. For me, my immediate reaction was to just support him in it." To add insult to onanism, Kirk admitted he often fantasized about other hoes while copulating with Tammy. "I see pornography as such a sexual act that I saw it as cheating," he bemoaned. "I [was] bringing images of other women into my bedroom with my wife."
Kirk wears makeup and lipstick which means he's full-blown Liberace gay.
So it makes you wonder what type of porn was he watching.
There's also leaked audio that implies Kirk molested his son, Kerrion Franklin.
Is it time for Kirk to egress the closet?
Should Tammy get checked for AIDS?
Watch Kirk's shocking confession.
Share your thoughts.