Bills safety Damar Hamlin representing the Illuminati

Hamlin shows Illuminati love.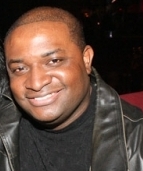 Blog King, Mass Appeal
BUFFALO — A viral video shows Buffalo Bills safety Damar Hamlin (or his body double) throwin' up Illuminati hand signs as his team was gettin' pistol-whipped by the Cincinnati Bengals in Sunday's AFC divisional playoff game. CBS television footage shows Hamlin in a luxury sky-box representin' with an admixture of pyramid gestures and 666 finger contortions. The 24-year-old also wore shades, donned a hood and didn't show his countenance the entire time — raising speculation he was supplanted with an imposter. Hamlin, if you recall, suffered a mysterious heart attack the first time the Bills faced the Bengals on "Monday Night Football." He didn't collapse. Instead, Hamlin fell safely on his ass. Now he's suddenly healthy enough to attend games. Nevertheless, if you recall, the entire Bills roster also performed a freemason ritual in wake of Hamlin's puzzling injury. But selling their souls didn't equate to a Super Bowl appearance which goes to show Satan is a chronic liar.
Now that the book is closed on the 2022 Bills, here's their entire 3, 6, 9 freemason numerology rundown: Hamlin wears jersey No. 3. He reportedly suffered Commotio Cordis at the 33-yard line. Team doctors performed 9 minutes of CPR. Bills quarterback Josh Allen threw for 33 yards when the game was suspended. During the team's midfield orison, Bills cornerback Siran Neal was the only player standing while everyone else kneeled. Neal's number is 33. Jesus died at 33 years old before being resurrected.
In Buffalo's first game after Hamlin's perplexing injury, running back Nyheim Hines returned the opening kickoff 96 yards for a touchdown. 9 and 6. It was the Bills first kickoff return TD in 3 years, 3 months. 3 and 3. Hamlin was released from the hospital 9 days after the alleged cardiac arrest. He was born in March, the 3rd month of the year. The weird injury took place in 2023 and Hamlin's GoFundMe account has accumulated roughly $9 million. Yessir, the Bills are all about 3, 6, 9. They ain't even hiding it.
So if you multiply three times three, you get 9.
If you multiply three times two, you get 6.
And if you calculate six hundred threescore, you get 666.
Watch Hamlin represent the Illuminati.
Share your thoughts.