Maury: Black chick claims fiancé got sister pregnant
Pookie bangs two sisters.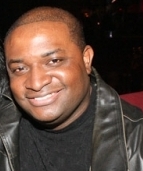 Blog King, Mass Appeal
NEW YORK — The adventures of Pookie & Ray Ray continue. In a recently released episode of "Maury," a woman named Cierra claims her fiancé Darryn enjoyed a dalliance with her little sister Shaniqua who's 5 months preggo. Cierra also believes Darryn has copulated with more than 20 thots. That's because she found lingerie around the house that's not hers, he stashes condoms in his pockets, and one of Maury's hidden cameras caught Darryn canoodling with a sexy decoy in the green room. Why do they always fall for that? "I'm in love with my fiancé Darryn. But I have a gut feeling that he is cheating on me," Cierra told the crowd. "What hurts me the most is that I think he's cheating with my baby sister Shaniqua… My sister's pregnant and I believe that Darryn will be the father of that baby." Darryn called Cierra a goddamn lie, claiming he's 100 percent monogamous. He also said there's no way in hell he knocked up Cierra's sibling. "All I wanna do is marry Cierra," Darryn said. "But I can't seem to do that because all she does is accuse me of cheating on her. But I'm not doing anything wrong… Cierra's my baby, my heart."
Social media reaction was priceless. One viewer wrote, "He's smirking through the whole thing. He don't give a f*ck about her." Another chimed in with, "Lust will make you do some nasty things." A third observer added, "She better calm down. She's about to have a damn stroke."  Maury strapped Darryn to a polygraph and gave him a lie detector test. Will he pass?
Also, would you forgive your sibling if they slept with your lover?
Watch the drama unfold.
Share your thoughts.