Jaleel White reveals many regrets on cross-dressing
Hollywood emasculates actors.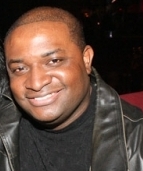 Blog King, Mass Appeal
HOLLYWOOD — If you're a male thespian in pursuit of a prolonged métier in Hollywood, all you have to do is… wear a dress. Spill Today released the documentary of actor Jaleel White who was basically blacklisted because he stopped dressing like a bitch. Jaleel was the main protagonist in the popular 90s sitcom "Family Matters." He played nerdy Steve Urkel — the blundering, yet ingenious scientist who generated laughs with his signature suspenders, oversized glasses, snort-enhanced chortle and high-pitched, nasally voice. His catchphrase was, "Did I do that?" Steve was also in love with his prepossessing neighbor, Laura Winslow. All hell broke loose when ABC producers coerced Jaleel to play Steve's female cousin, Myrtle Urkel — the rich Southern belle from Biloxi, Mississippi. It's a dramatis personae Jaleel despised from the get-go.
So did his family.
"At the end of that first episode playing Myrtle, I went into my dressing room and I cried," Jaleel recounted.
"And then the producers came to check on me and my dad told them that I would never do that character again."
To compound matters, Reginald VelJohnson (Carl Winslow) and Jo Marie Payton (Harriette Winslow) treated Jaleel like sh*t.
They were jealous of the fandom that encircled Urkel's characters.
Jaleel ain't the only emasculated dude to don a frock on-screen. Eddie Murphy, Martin Lawrence, Jamie Foxx, Chris Rock, Kevin Hart, Kenan Thompson, Tyler Perry, Brandon T. Jackson, Marlon Wayans and Shawn Wayans are among the many comedians who got their big break after cross-dressing. Social media reaction was wild. One commenter wrote, "The Illuminati put white actors and comedians in dresses too. Tom Hanks, Adam Sandler, Dustin Hoffman, Robin Williams, Patrick Swayze, Rodney Dangerfield, and Jared Leto… just to name a few." Another viewer added, "In Hollywood, before they make you, they break you. It's all about control."
Keep in mind, in the bible, Deuteronomy 22:5 says, "The woman shall not wear that which pertaineth unto a man, neither shall a man put on a woman's garment: for all who do so are an abomination unto the LORD thy God." 
Damn, hope wearing a dress was worth it.
Watch the explosive documentary.
Share your thoughts.