Chiefs receiver Toney rips Giants fan on social media
Toney cussed out Giants fan.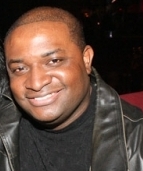 Blog King, Mass Appeal
KANSAS CITY — Sometimes it's best to stay off social media. Kansas City Chiefs receiver Kadarius Toney is under fire after he unleashed a profanity-laced tirade on a New York Giants fan at 3 a.m. If you recall, Giants general manager Joe Schoen traded Kadarius to the Chiefs midseason. The acquisition paid immediate dividends when Kadarius returned a punt 65 yards in Super Bowl LVII to help the Chiefs win their second title in four years. It's the longest punt return in Super Bowl history. You can Kadarius, 24, is pissed at Giants quarterback Daniel Jones for f*ckin' up his stats. Even though Danny Dimes ain't worth a dime, he earns $40 million per season despite being one of the worst signal-callers in the NFL. Schoen must've been smokin' crack when he gave Danny that contract. "You talk about I miss Daniel Jones," Kadarius told the troll. "Apparently, he misses me — punk-ass n*gga. I can show you the call log, he callin' me, blowin' me up. Pull up n*gga or shut the f*ck up!"
Social media reaction was worrisome. One commenter wrote, "Grow up No. 19. No need to respond to that crap. You're putting yourself on the trading block doin' that sh*t. Be an adult and drop Twitter from your phone." Another person added, "Toney needs to worry about staying healthy and playing football. Let his play do the talking." Chiefs head coach Andy Reid normally doesn't allow his players to excoriate fans on social media. If you recall… Tyrann "Honey Badger" Mathieu, Anthony Hitchens and Khalen Saunders lambasted fans online and Coach Reid kicked 'em off the team.
Will Kadarius be next?
Check out the clip.
Share your thoughts.
Kadarius Toney tryna convince me he doesn't miss Daniel Jones and that Daniel Jones misses him at 3 AM 🤣🤣🤣 pic.twitter.com/U37Lj0AqHP

— evin (@KayvonOjulari) July 11, 2023