ChiefsAholic busted in Cali after robbing several banks
ChiefsAholic finally captured.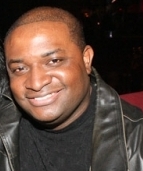 Blog King, Mass Appeal
KANSAS CITY — It took a while. But they finally got him. Kansas City Chiefs superfan ChiefsAholic — né Xaviar Michael Babudar — was arrested Friday in Sacramento, California after 4 months on the run. Law enforcement officials offered a $25,000 reward for his capture and somebody turned his ass in. Babudar, 28, robbed a handful of banks throughout the Midwest in a 9-month span. Ticket prices and concession items are expensive as hell. So who can blame him. The FBI linked Babudar to robberies in Iowa, Minnesota, Tennessee, Oklahoma and Nebraska. Authorities said he purloined more than $800,000 then bought casino chips to launder the money. Babudar, if you recall, was arrested in December for robbing a Tulsa credit union. But the judge released him on bond, he removed his ankle monitor, and he's been an absconder ever since.
Social media reaction was hilarious. One commenter wrote, "Tickets, concessions, etc. are expensive. We can't all make Roger Goodell-type cash." Another person added, "That's a true diehard fan. Chiefs tickets ain't cheap.🤷🏻🤣" Babudar is arguably the Chiefs most recognizable fan. He attended games dressed as a poor man's KC Wolf and he has a massive social media following.
Babudar also has a history of legal trouble and he's been homeless for years.
Watch ChiefsAholic get arrested and jailed.
Share your thoughts.