Robots take in Chargers, Dolphins game with fans
Robots attend Chargers game.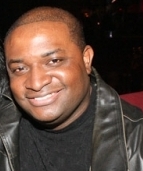 Blog King, Mass Appeal
LOS ANGELES — Uh-oh! At Sunday's Miami Dolphins vs. Los Angeles Chargers game, a swarm of A.I. robots from the Sci-Fi drama "The Creator" were sedentary alongside fans at SoFi Stadium. And, what's scary is them mothaf*ckas resemble real humans. You can tell mechanical engineers left their countenances partially done (the ears in particular) so we can discern the difference. One of the humanoids is a black dude who looks familiar. NFL officials said the robots were there as a publicity stunt to bring attention to the film. Brittany Mahomes, wife of Kansas City Chiefs star Patrick Mahomes, wasn't amused. As a matter of fact, she was spooked. "I mean why?" Brittany wrote on Instagram. "That's a hell nahhhh." Social media reaction was priceless. One commenter wrote, "I'd rather have robots at the game than a bunch of drunken assholes who start fights and ruin the experience."
Another chimed in with, "A.I. robots killed 29 scientists in China… look it up." A third person added, "Y'all must not have watched 'I, Robot' with Will Smith." Written and directed by Gareth Edwards, "The Creator" sheds light on an artificial intelligence war between humans and robots. Sort of like the Terminator. The military's secret weapon is an android in the form of a child. The 20th Century Studios flick boasts an impressive cast that includes John David Washington, Gemma Chan, Ken Watanabe, Allison Janney, and Madeleine Yuna Voyles.
Are you ok with robots attending human events?
Is the world near its cessation?
Watch shocking footage.
Share your thoughts.