'Cussing Pastor' ripped for hosting twerk competition
Pastor hosted a twerk contest.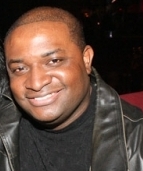 Blog King, Mass Appeal
MEMPHIS — First, a white minister released a rap video called "Jesus Christ is my N*gga." Now this. Thaddeus Matthews (aka the Cussing Pastor) is under fire for having his female congregants compete in a twerk contest during church service. You can't make this stuff up. The rump shaker tournament was also captured on video. Cell phone footage shows a handful of curvaceous vixens gyrating to hip-hop music. There's ass and titties everywhere. Thaddeus is the reverend of Naked Truth Liberation and Empowerment Ministries in Memphis, Tennessee. He's unapologetic and downright salacious. Thaddeus disseminated a clip in defense of his booty competition. "Why is it — with your fake, phony asses — that you believe that because you love God, that you can not enjoy life?" he ranted. "That's the bullsh*t from the pulpit that you have been taught for years."
"There's nothing wrong in you enjoying yourself and enjoying life and we have good, clean, adult fun each and every Sunday evening," Thaddeus continued. "It's a new day, a new thing, and we're trying to save those who are lost." Social media reaction was unforgiving. One commenter wrote, "Since when is twerking ok in church? They're nuts." Another chimed in with, "Yo, that's crazy & disrespectful in the House of the Lord." A third viewer added, "This isn't church for real, is it? Oh Jesus my GOD I know The Lord isn't liking this."
Thaddeus was arrested last year for violating a restraining order filed by his ex-girlfriend.
So he has issues.
Are you cool with women shaking their derrières in church?
Watch the twerk contest followed by the rationale behind it.
Share your thoughts.