Martin & Tisha Campbell finally reunite for BET+
Martin & Tisha make amends.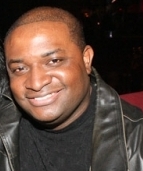 Blog King, Mass Appeal
LOS ANGELES — If you recall, Tisha Campbell sued Martin Lawrence in 1997 for being overly amorous. Twenty-five years later, they've let bygones be bygones. During an appearance on Thursday's episode of the PEOPLE Every Day podcast, Tisha revealed the cast of Martin is "all healed" after the sitcom came to screeching halt amid her sexual harassment allegations. The 53-year-old actress spoke about the opportunity to join her costars again for "Martin: The Reunion" which premiered Thursday night on BET+. Tisha was a little nervous. But it had nothin' to do with the reunion. She was more concerned with fan reaction. "I hope people embrace it as much as they say they do," Tisha said. "I wasn't nervous about getting together with the cast, 'cause we are still friends." When asked to expound upon the lawsuit, she replied: "Everything else is a personal situation that we've all healed from. So we're not even gonna talk about it." Martin, 57, was more loquacious, saying, "It is nothing but love with me and her. It's nothing but love." Nothin' but love? Tisha ruined your show then drove you towards a mental breakdown.
She had Martin standing in the middle of traffic, cussin' out drivers.
Carl Anthony Payne, who played Cole Brown, downplayed the sitcom's cessation — calling it a family affair. "I mean, you know, every family has its drama," Carl, 53, explained. "Every family has its trials and tribulations and things like that. And every good thing must come to an end. I think it could have gone on longer, but it is what it is until it ain't." The Fox sitcom ran for four seasons when all hell broke loose. Martin and Tisha did, however, return for a fifth and final installment under the stipulation they couldn't shoot scenes together. Martin swore he didn't touch Tisha. But he settled anyway because she was a royal pain in the ass.
Fans think Tisha is using Martin to get back in the limelight. After all, she ain't done sh*t since "My Wife and Kids." Meanwhile… Tisha's BFF — Tichina Arnold (Pam) — is starring alongside Cedric the Entertainer in the hit CBS sitcom "The Neighborhood."
Thomas Mikal Ford, who played unemployed Tommy, died 6 years ago.
Are you glad to see the gang back together?
Would you reconnect with someone who accused you of sexual harassment?
Watch clips of the reunion.
Share your thoughts.