Janelle Monáe no longer female, she's non-binary
Janelle Monáe is genderqueer.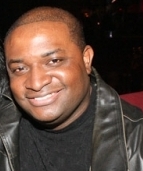 Blog King, Mass Appeal
HOLLYWOOD — Janelle Monáe raised eyebrows Sunday afternoon when she told fans she's no longer a female. The Kansas City, Kansas native — who dates mostly women — proclaimed her non-binary status while serving as Grand Marshal of the Pride Parade in West Hollywood. Janelle, 36, rocked a raunchy black and white ensemble with silver tassels dangling from her plump embonpoint. The sexless singer was joined on stage by her mom Janet. "I'm non-binary, so I just don't see myself as a woman solely," Janelle told the epicene crowd. "I feel like God is so much bigger than the 'he' or the 'she' and if I am from God, I am everything. But I will always, always stand with women. I will always stand with Black women. But I just see everything that I am; beyond the binary." Janelle said she's still down with black women. But didn't mention sh*t about black men.
Social media reaction was fierce. One fan wrote, "Another one bites the dust. I used to see you as a beautiful lady that can sing and dance with the best of them. Now I see you as fake, starved for attention, confused, and unappealing." Another chimed in with, "She's still fine as f*ck. Just need a little bit of straightening." A third person added, "She needs to leave GOD completely OUT of this. He didn't make her crazy, she chose that sh*t !!!💯💯💯"
Watch Janelle kick it at the Pride Parade.
Share your thoughts.