Olympian Kim Glass got attacked by a vagabond
Olympic star attacked in LA.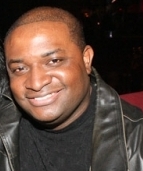 Blog King, Mass Appeal
LOS ANGELES — TMZ released sanguinary footage that shows Olympian Kim Glass being brutally assaulted by a negro zombie last weekend in downtown Los Angeles. As she was leaving a restaurant with a friend, Semeon Tesfamariam threw an enormous metal pipe that hit Kim square in the countenance. Blood was splatted everywhere. The quondam volleyball star wailed in agony as a passerby, Benson Parks, rushed to her aid. The Good Samaritan also kicked Tesfamariam's ass then held him down until police arrived. In this day and age when beta males rather stand and watch women get beat to a bloody pulp, Benson's alpha male personae is no doubt a breath of fresh air. Kim said the attack was completely unprovoked. "He just like looked at me with some pretty hateful eyes," she recounted. "And, as I turned to go tell my friend, 'I think something's, like, wrong with him and I think he's going to hit a car,' before I knew it, a big metal bolt, like pipe, hit me right here. It happened so fast."
Kim suffered a black eye and multiple facial fractures. Tesfamariam was arrested and charged with felony assault with a deadly weapon which means he'll be out in a week. Kim, if you recall, won a silver medal at the 2008 Beijing Olympics.
She's sexy as hell when she's not bruised and battered.
Watch disturbing footage.
Share your thoughts.